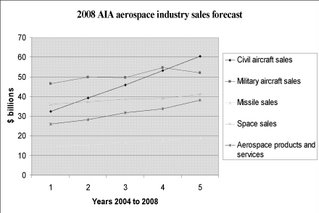 Posted by
John Keller
The Aerospace Industries Association released a rather
cheery forecast
of 2008 sales of military and civil aircraft, missiles, space, and aerospace products this past week at its annual year-end luncheon for industry executives and the press.
The group's forecast says sales revenue for everything but military aircraft will increase next year, and AIA experts say sales increases could continue their growth until 2010 and beyond. This forecast concerns me because it sounds a little too optimistic.
Let's look at the civil aerospace sector, which includes commercial transports, business jets, general aviation aircraft, helicopters, engines, and related components. The big-ticket items here are commercial jetliners.
I look at rising fuel costs and wonder how long it will be before the airlines have to
raise ticket prices
substantially enough to cover their fuel costs that pleasure-travel coach passengers start staying home. I don't think we'll see a big decrease in business travelers, but I think a lot of the blockbuster tourist air travel deals are going away.
This has the potential to reduce projected growth in airline travel, and if that's the case the decrease will cut into civil aircraft sales. Yes, I know; all projections are for stead increases in airline ridership, but I don't think all those projections for growth took fuel costs into consideration.
Now let's take a look at military aircraft. The AIA predicts a slight decrease in sales from $54.85 billion this year to $52.21 billion in 2008. This is probably on target. Still, I think military aircraft sales in future years could be a drag on overall aerospace industry sales.
Lockheed Martin is already warning its suppliers of a possible halt in
F-22
budget requests next year, and that could be a trend.
F-35
Joint Strike Fighter costs may be on the rise, as well. Unless a credible international threat emerges that requires an increase in military aircraft, I don't see this area as a bright spot in the overall aerospace industry budget.
Missiles could be interesting. The AIA says sales in 2007 will be $17.67 billion, and will increase to $18.66 billion in 2008. This also could be on target, or might be slightly understated. Ongoing military operations in Iraq and Afghanistan call for a steady consumption of
missiles
, and U.S. military forces have to start thinking about replenishing their inventories.
Space
is a big question mark. AIA says spending for space will be $39.18 billion in 2007 and increase by 5 percent to $41.17 billion in 2008. This concerns me because as of right now U.S. space exploration is more talk than action. We'll have a Democrat Congress next year and a change in administration. If things are tight, as they look like right now, then space spending will be a tempting place to cut.
I'm not trying to be over-pessimistic. I hope the
AIA
is correct in its predictions. Something tells me, however, that the kind of fiscal growth we have become accustomed to in the aerospace business has got to come to a halt. Here's hoping I'm wrong.