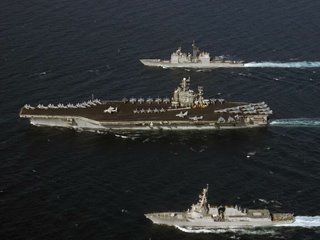 Posted by
John Keller
The U.S. economy has run through nearly every powerful business sector to lean on to keep itself upright. Commercial technology seems to be played out. Housing -- long the mainstay -- is on its back. Consumer spending is staggering. What's left?
Defense spending, that's what. It's come to this.
With most business sectors at the end of their ropes, U.S. defense profits, sales, or both, apparently are on the upswing, according to an
Aviation
Week and Space Technology
blog by
Joe Anselmo
entitled
Downturn? Not in Defense Profits
. Writes Anselmo:
It certainly is a good time to be working in aerospace and defense, as opposed to banking or housing. The fourth quarter and full-year 2007 earnings results that companies are rolling out this week illustrate the degree to which military contractors are buffeted from the sputtering U.S. economy.
Anselmo points out that Lockheed Martin in the fourth quarter had flat sales but a 20 percent increase in net income. General Dynamics posted net income at the same time that is up 42 percent. Northrop Grumman had flat sales, yet a 10 percent gain in net income. Northrop Grumman over the full fiscal year had a 16 percent increase in net income and a 6 percent increase in sales. More good news is likely to come soon.
Contrast that with the dismal news we have been reading about the banking and housing industries. The defense industry, again, is looking like a winner.
It's funny, though. Defense spending only seems to be really great when most commercial industries have hit the skids. I sense from conversations this past week at the
Photonics West
trade show that
electro-optics companies
usually focused on commercial endeavors are giving surprisingly strong consideration to the military.
What this tells me is commercial technology might not be the best bet these days, and technology companies are looking for a safe harbor. When they do this they usually turn to the stable, predictable, and large
defense budgets
.
When's the last time they did this? It was in the wake of the telecom and dot.com busts and the 9/11 terrorist attacks in 2001.
Some newcomers to the defense business will make it, and some won't. Those with experience with the military business have a big advantage. Those without experience are likely to be disappointed.
But watch. Most of the newcomers will toss defense aside like an old shoe once commercial technology comes back. Defense systems integrators have seen this before -- and they have long memories.