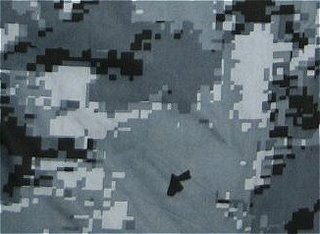 Posted by
John Keller
A pair of researchers from the
University of Rochester
have come up with a way to use ultrashort laser bursts to make nearly imperceptible pockmarks in metal surfaces that can change the metal's color by altering how the it absorbs and reflects light.
Aw, so what, you might say. So jewelers might be able to change the gold color in a wedding ring to match the color of the bride or groom's eyes. Cute.
But that's not what I'm thinking. Imagine what this could do for the military in terms of camouflage, and for the costs of paint and corrosion protection. This technology has the potential to change the color of metal without paint.
Can you just feel the joy in the air as legions of Navy boatswain's mates ponder a future that may not include spending the better part of their lives painting ship hulls and fixtures?
Any kidding aside, now, think about what the Army spends every year on painting tanks and other armored combat vehicles, as well as sanding and scraping for rust and other deterioration. Combat vehicles with this technology might be able to be colored appropriately for the field without paint. Technicians could detect and repair rust and corrosion without scraping and repainting.
Yet what sounds most interesting is the potential for camouflage. A story this week in
The New York Times
entitled
Lasers Make Other Metals Look Like Gold
explains how this technique that uses femtosecond laser pulses can turn color metals orange, gold, blue, black, and other colors.
What's not clear, however, is with additional research might this technique be able to render metal invisible to different kinds of sensors? If it can change how metal absorbs and reflects light, then isn't it possible that no light could be reflected? How about confusing colors? It sounds like there's a lot of potential here.
The U.S. military has been putting time and resources into new kinds of camouflage for years. Look at the soldiers next time as you pass through the airport. Their battle dress uniforms have camouflage patterns like pixels on a computer screen. DARPA is considering using
flexible displays
for camouflage.
A few years ago the Army started looking at using nanotechnology to create
smart paint
that not only might be able to warn of rust and corrosion underneath layers of paint, but that also might be able to change its camouflage pattern with different electrical impulses.
Looks like this new laser technology is giving the
camouflage researchers
a few more options.