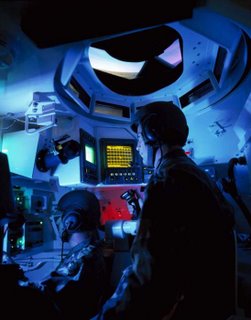 Posted by
John Keller
For a long time now, U.S. military technology developers have been lying awake at night thinking about how to counter the low-tech threat: improvised explosive devices (IEDs), cell phone-carrying informants, garage door-opener triggers, and unguided rockets. It's been a long time since we talked seriously about the kinds of advanced-technology military threats that we did 10 or 20 years ago.
Yet lately I'm starting to feel like it's deja vu all over again. Look at the news reports from Russia. New ICBMs, advanced theater ballistic missiles, and modernized surface warships on exercises where they can be seen up close.
It's beginning to feel a lot like the '80s. I remember those days well when I was a cub reporter in Washington covering the Pentagon and Capitol Hill, with Ronald Reagan in the White House talking about the 'Evil Empire' and singing the praises of Rambo. Those were the days when we all looked forward to that annual Pentagon press conference where senior officers released what I called the 'Scare Book' -- the slick, four-color booklet called
Soviet Military Power
.
Ah, those were the days of the advanced-technology threat; no
IEDs
for us. That booklet is where we learned about the Soviet Typhoon-class ballistic missile submarines, SU-27 Flanker jet fighters, Kirov-class cruisers, T-80 main battle tanks, Akula-class attack submarines, and anything else in the Soviet inventory that would scare us half to death.
Now I'm wondering if the Scare Book will be resurrected anytime soon. I just read the other day in
Defense Update.com
about the newest Russian main battle tank, the T-95, which is supposed to enter service in 2009. I got the same shiver I used to get reading Soviet Military Power when I saw
the story
:
In 2009 the Russian Army is scheduled to receive a new main battle tank, claimed to be superior to existing designs. The new tank will introduce a new hull, power plant and drive train. It will also have improved firepower, comprising of new armament, target acquisition, fire control and surveillance systems.
It sounds like the folks in the
vetronics lab
at the U.S. Army Tank-Automotive Command outside of Detroit have their work cut out for them. The same goes for the scientists at
General Dynamics Land Systems
in nearby Sterling Heights, Mich., as well as tank designers in Israel, France, Germany, and elsewhere. It looks like there's about to be a big, tough, new kid on the block, and anyone concerned with tanks and other armored vehicles had better start thinking about it.
It's been quite a while since main battle tanks were the prime topic of discussion. I remember when the Army's M-1 Abrams tank was the toughest tank around. That was -- well, it must have been back in the '80s.
I think the next generation of tanks will have to be unlike any other. First, the new tanks must rely on much more than just their armor. They'll have to be fitted with
advanced vetronics
like active air defenses capable of shooting back at fast-moving attack helicopters and strike fighters. They'll need sophisticated electronic warning systems, and advanced optical targeting systems that will help them get off the first shot.
Many other changes will be in store, as well. We'll see if the next generation of main battle tanks will be manned, unmanned, or a combination of both.
One thing is clear, however. It's time, once again, for the tank designers to get busy.