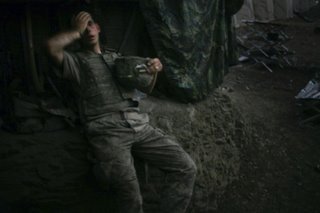 Posted by
John Keller
There's potentially good news this week for every soldier who's ever had to take the field burdened by pounds and pounds of batteries to keep his
-- radio
-- GPS navigator
-- rugged PDA
-- night-vision goggles
-- rugged laptop
-- wearable displays
-- fill in may, many more blanks
powered up for the mission at hand. Yeah, I know, soldiers always have shouldered heavy loads since the dawn of human history. It's worse these days, though, especially with the growing number of
batteries
these folks have to bring along. Couple that with 120-degree heat in the Middle East and you've got some wilted infantrymen.
Take a look at the photo above left of an
exhausted U.S soldier
in a bunker in Afghanistan. This photo, by Britain's Tim Hetherington for
Vanity Fair
magazine, recently won the top World Press Photo prize for news photography. The soldier's expression shows how a lot of our soldiers feel when they take the field day-in and day-out carrying heavy loads.
That might change in the future, though, at least as far as the batteries necessary to power electronics and electro-optics in the field. Researchers at the Massachusetts Institute of Technology say they have designed an energy-efficient chip that can reduce power consumption by 10 times.
Computerworld
reports in a story entitled
MIT: Human body heat may someday power energy-efficient chip
that chips this efficient might not even need batteries at all. They might be able to harvest all the power they need from the soldier's body heat.
MIT talked about the new super-efficient chips this past week at the International Solid State Circuits Conference in San Francisco.
Computerworld
also says that Texas Instruments is very interested in the new chip design, and company officials say they might be able to start fielding body-heat-powered electronics with the new chips in as short a time as five years.
This may not be as far-fetched as it sounds. A North Carolina company called Nextreme Thermal Solutions has a way to package heat exchangers that are as small as 1 by 1 millimeter. The idea behind this
Thermal Copper Pillar Bump
technology is to cool chips, but Nextreme officials point out that the technology also can create small amounts of power from ambient heat.
Hmmmm ... enough power for the new MIT chips? Enough ambient heat from the human body to create this small amount of power?
I think we're on the verge of some very interesting things. I'm sure it's not soon enough for those overloaded soldiers in Iraq and Afghanistan.